OptiFABULOUS!!!
Highlights from Optifab 2023
Thousands of optics industry experts and professionals from around the world gathered at North America's largest optical fabrication exhibition. SPIE and APOMA organized Optifab 2023 in Rochester, NY in mid-October with a full agenda of presentations and activities. AmeriCOM hosted two noteworthy events, and was invited to speak at a third. Our plenary panel and Student Day activities became the buzz of the conference, while our CEO met with precision optics manufacturers to share the organization's priorities for the industry.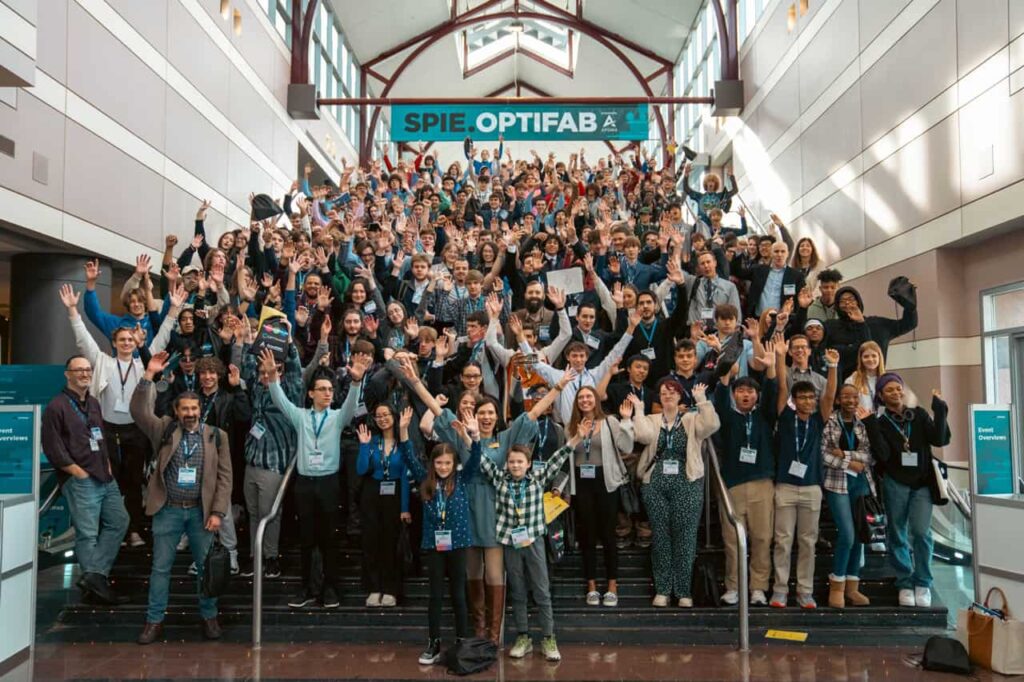 Industry leaders discuss strengthening precision optics workforce
Optics leaders packed the house for AmeriCOM's Plenary Session, "It Takes an Ecosystem: Building the Precision Optics Industry, One Technician at a Time." Presenters Blair Unger, Director, Situational Awareness NPD & NH Site Lead, Gentex Corp. and Alexis Vogt, AmeriCOM's Executive Director of Workforce and Higher Education and Endowed Chair and Professor of Optics at Monroe Community College, examined job positions and salaries in optics manufacturing and the workforce development challenges that are affecting the optics industry. Jessica DeGroote Nelson, Senior Director of Optical Product Development, Edmund Optics led a panel discussion showing how the AmeriCOM optics ecosystem model benefits optics companies who support the ecosystem model.
Panelists included:
Jim VanKouwenberg, Workforce Development Coordinator, Optimax Systems, Inc.
KC (Katherine) Kamenecka, Director, Engineering and Quality, Thorlabs Lens Systems
Amanda Meier, Optics Technology Director and Faculty, Front Range Community College
Carolyn McMorran, Assistant Vice President of Professional Continuing Education, Valencia College
Alexis Vogt, Executive Director of Workforce and Higher Education at AmeriCOM and Endowed Chair and Professor of Optics at Monroe Community College
Jennifer Owens, Optical Technician, Vertex Optics
Jimmie Salone, Optical Technician, Thorlabs Lens Systems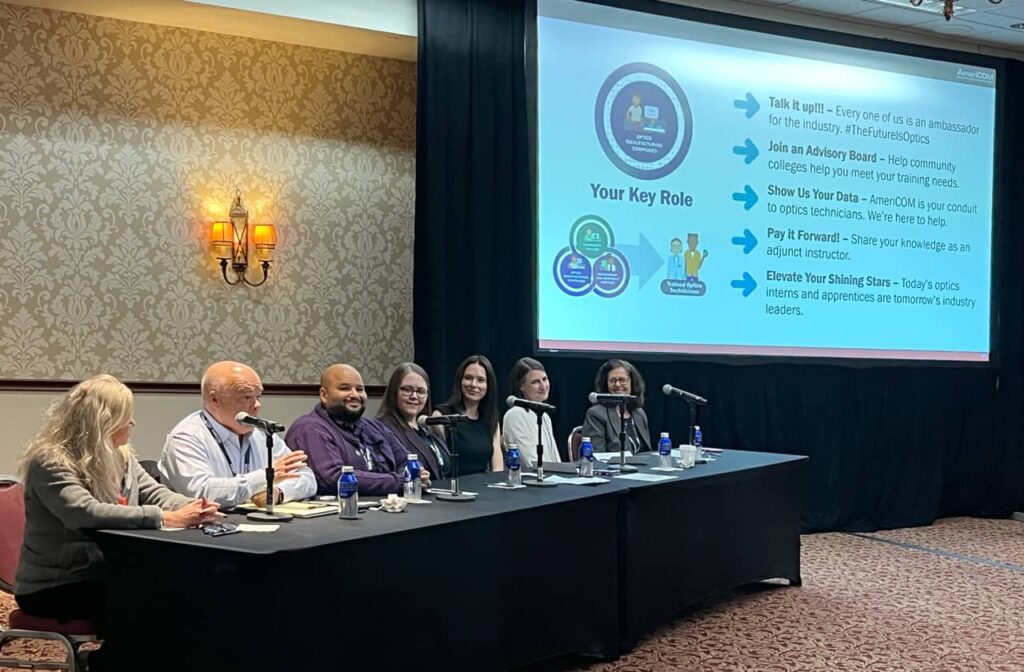 Panelists agreed all stakeholders must work together to solve workforce development challenges. "We're in this together," said Meier. "When industry and community partners support our academic institutions, we can recruit and train more students. When companies hire our students as precision optics technicians, it helps them meet manufacturing demands. That growth is great for the community, so everyone benefits from this effort."
Future leaders find their way to optics companies
More than 450 college and high school students attended Student Day at OptiFab, marking the largest student participation in conference history. AmeriCOM co-sponsored the event with Optimax, providing students with backpacks that contained a map for a scavenger hunt for students to use on the exhibit floor to meet and learn about optics employers.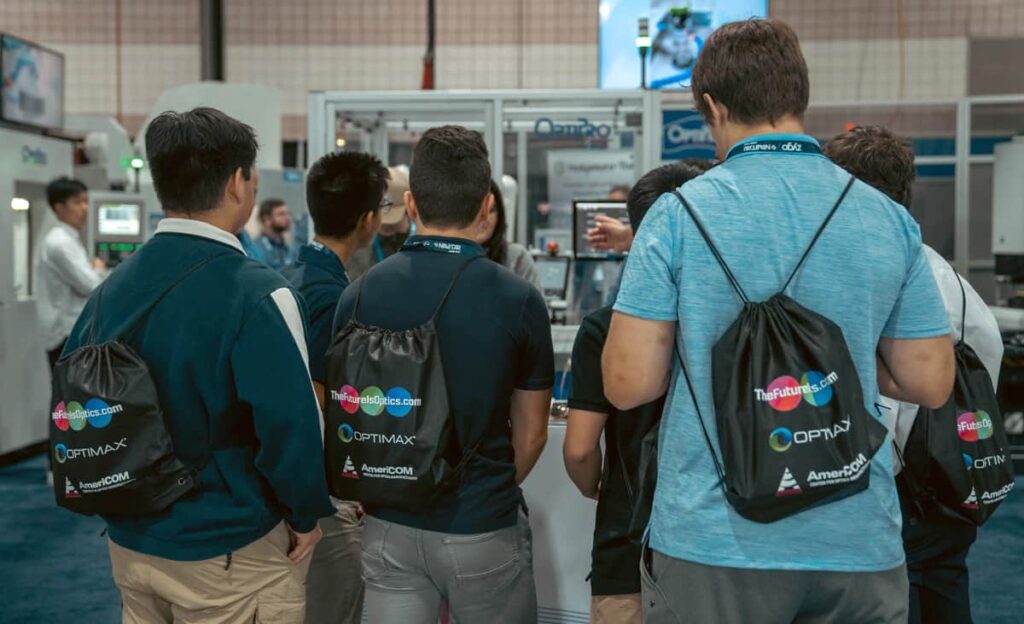 "We want to expose more students to the optics industry, and we want to show them the potential for fulfilling careers," said Donna Smith, AmeriCOM's Science Educator Liaison. "One of the most powerful ways to motivate students to consider a career in optics is for them to engage directly with the employers who are ready to hire optics technicians."
To participate in the scavenger hunt, students were provided a game board with clues about precision optics companies that were exhibiting at OptiFab. Solving each clue would lead students to the company's booth on the trade show floor. Students met with a company representative and were required to ask a question about the company before receiving a sticker for their game board. Once they collected stickers from participating companies, students were led back to the AmeriCOM booth for prizes. "It's a fun way to get students thinking about different job opportunities and interacting with employers," Smith explained.
AmeriCOM would like to thank SPIE and the many companies that participated in the scavenger hunt and donated prizes. Monroe Community College sent the largest delegation with more than 125 students. Nineteen area high schools also participated in Student Day. 
AmeriCOM Updates APOMA Membership on Its Mission and Key Priorities
The American Precision Optics Manufacturers Association (APOMA) invited AmeriCOM CEO Jeff Ruckman to speak at its general meeting, providing members an update on the organization's key priorities for strengthening the optics manufacturing industry. Ruckman urged members to engage with their local legislators to support the Congressional Optics and Photonics Caucus co-chaired by Rep. Joseph Morelle (NY-25). Ruckman also amplified Rep. Morelle's recent calls to support optics manufacturing ecosystems by participating in workforce training initiatives in their home regions. He also urged companies to suggest and participate in the research efforts of AmeriCOM's Defense Precision Optics Consortium in ways that are relevant to their respective needs. Other presenters included Dr. Du Nguyen, Lawrence Livermore National Laboratory; Dr. Alexis Vogt, Monroe Community College and AmeriCOM; Pat Augino, Optimax & OEOSC; and Caleb Klein, SPIE.