Overheard at OptiFab: Hear What Attendees are Talking About
AmeriCOM hosted Student Day at OptiFab 2021, introducing hundreds of high school and college students to potential career opportunities in optics. Engaging students – as early as middle and high school – is critical for AmeriCOM to meet its goals for expanding the pipeline of skilled optics technicians.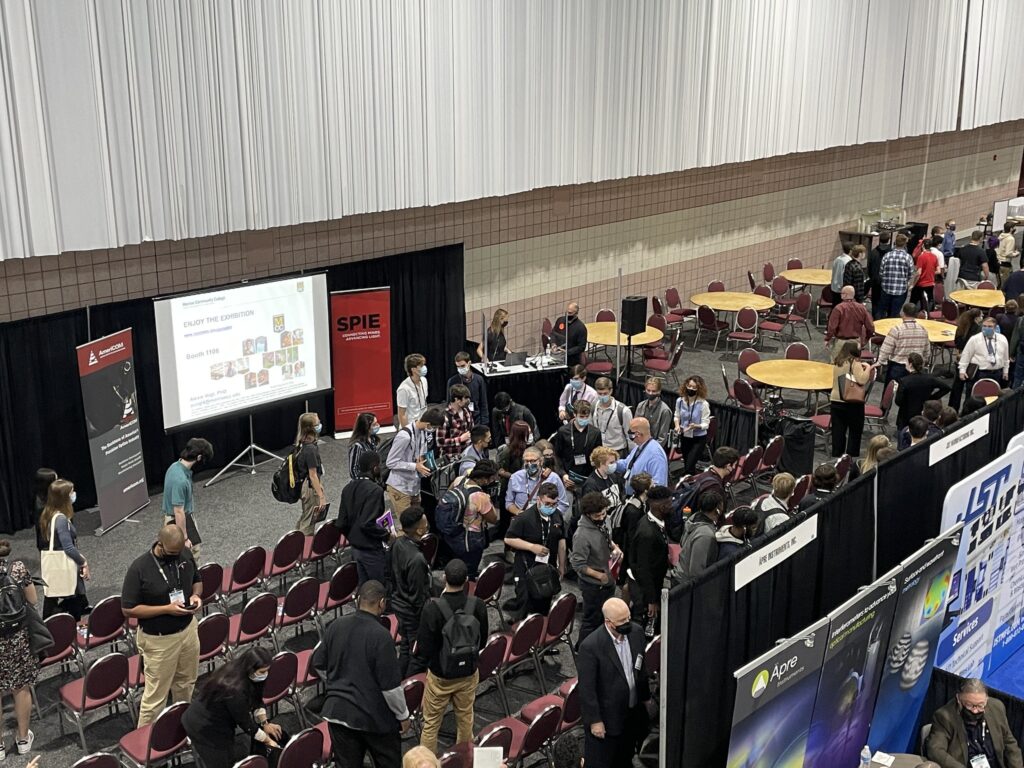 The morning began with Dr. Alexis Vogt, AmeriCOM Workforce and Higher Education Executive Director, addressing students from regional schools including Monroe Community College, Hilton High School, Webster Thomas High School, Vertus Charter School, and BOCES. Representatives from University of Rochester, Rochester Institute of Technology, and University of California, Los Angeles also attended the briefing.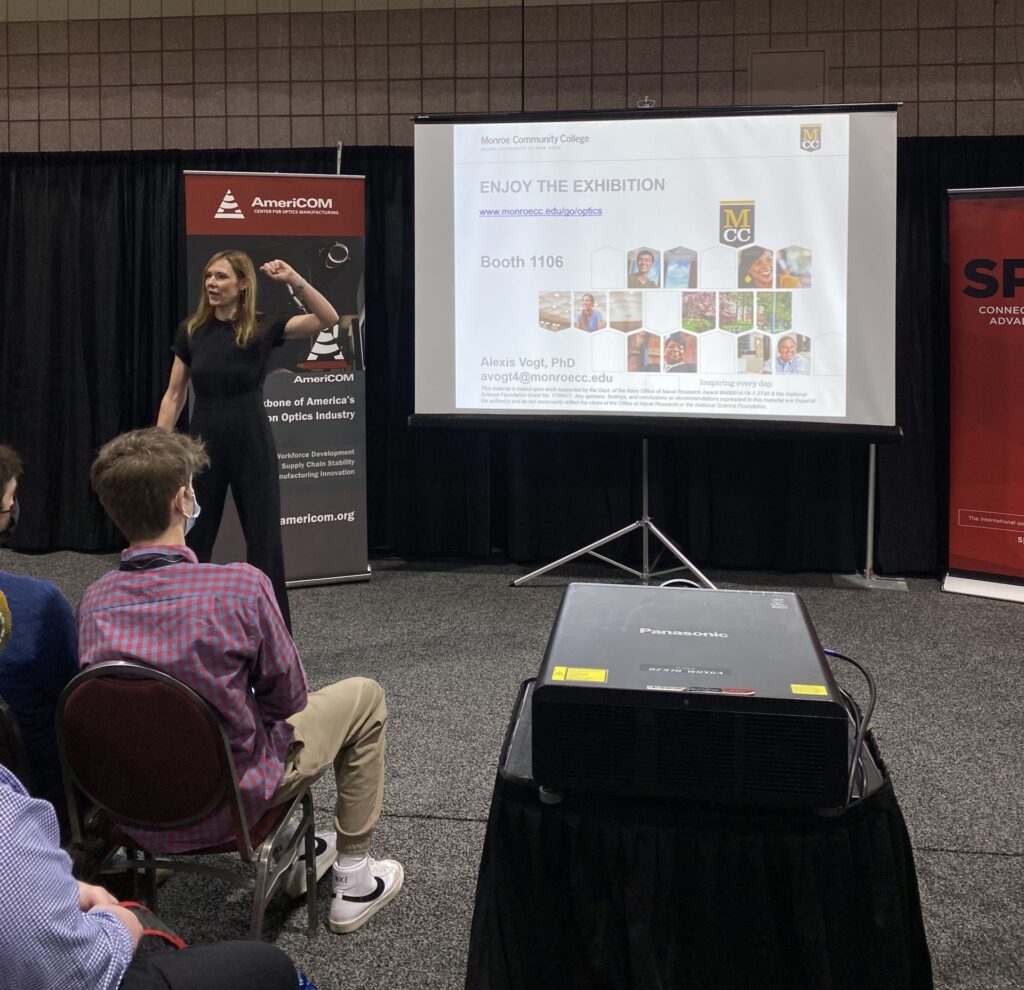 Dr. Vogt inspired the audience with a stirring presentation on the global need for skilled optics technicians. With eyes wide open on the career possibilities, the excited students turned loose on the exhibition hall to meet with exhibitors.
Here's a quick look at what had attendees talking.
Genesee Vega
Genesee is a mother of three children who left the veterinary field in search of a better career. She entered an apprenticeship program with Sydor Optics and talks about how it changed her life.
"It allows me to take classes while working full time to support my family, and also get a degree in optics."
"When I started schooling and started being in the optics field, it blew my mind how much optics is actually a part of everything we do."
"If you're thinking about it, definitely just go for it. It's a good opportunity. You can travel around the world doing it. There are so many opportunities, so many jobs available to you. Whether you have no experience, or good experience, or minimal experience, a lot of companies are willing to hire on a train basis."
Dr. Alexis Vogt
Dr. Vogt is AmeriCOM's Workforce and Higher Education Executive Director. She is also the Endowed Chair and Professor of Optics at Monroe Community College (MCC). At OptiFab 2021, she spoke with students about precision optics as a potential career path.
"This is a great field for everybody. High school students, but also career changers. Whether they're early career, or mid-career, or even later career. There are so many opportunities that are available. People can re-enter into a brand-new career — a career that's revolutionizing the way in which we live."
"You don't realize just how enormous this field is and when you're stepping into it you don't know where you'll end up."
Jaiden Minott
Jaiden is a student at Monroe Community College (MCC) who says he was "hooked right away" when Dr. Vogt spoke to his high-school class about precision optics. He is now in the Corning Technician Pipeline Program where he's found a great balance between work and school.
"The program that I'm in, they only want me working eight hours a week because they want me to focus on school. So it's pretty easy right now to balance between the two because I'm only working once a week and have school the rest of the week."
"If you like a challenge and you like physics and you like math, you'll definitely like optics a lot."
Dr. Amanda Meier
Dr. Meier is the Director of Optics Technology Program at Front Range Community College in Colorado.  She loves introducing students to the world of optics, and especially enjoys the eye-opening moment when students first realize how ubiquitous optics are.
"We touch so many things that we don't even realize have different science and technologies behind them. I think that's the best part of now why we get to teach this and now why I'm so happy to be part of teaching this because you get to see that moment with students that have no idea. I love it."
Briana Kilpatrick-Grant
Briana is a student at Monroe Community College (MCC) who says her college experience exposed her to multiple career paths in precision optics.
"I chose MCC because it was versatile in its curriculum and it was also diverse. It was also a place where a lot of opportunities are accessible. "
"There's a lot of hands-on stuff that is very dexterity-driven, very hand-eye coordination driven, very memory-based and patter-based driven. So I think if somebody was looking to get into optics and they have those qualities I would say you should try it. You never know, until you try, what you're capable of."