Dr. Alexis Vogt, SPIE Honoree, Reflects on Journey
"It's a tremendous honor," said Dr. Alexis Vogt. "But more than that, it is validation that we're on the right path toward strengthening the optics manufacturing workforce." Dr. Vogt received the SPIE María J. Yzuel Educator Award, recognizing outstanding contributions to optics education.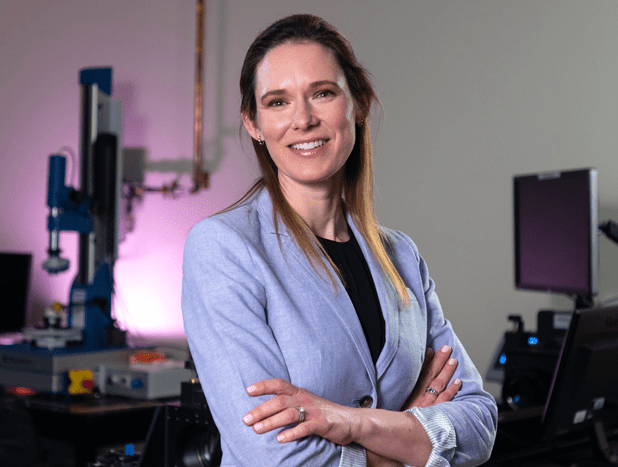 The award is the latest in Dr. Vogt's distinguished career in optics spanning both academia and industry. As Endowed Chair and Professor of Optics at Monroe Community College (MCC) in Rochester, NY, Dr. Vogt took a moment to reflect on how far the program has come over the years. She admits it has been quite the journey.
"We had to start from the ground up. When I first joined MCC there were five students in the program," Dr. Vogt recalled. MCC launched the Optical Systems Technology Program in 1963 as the first in the country to train technicians to work in the optics industry. Despite the program's longevity, it was nearly defunct when Dr. Vogt joined in 2015. The program faced low enrollment, inconsistent leadership, and several other challenges.
High school students often did not consider careers in optics manufacturing, or even know they existed. Procuring equipment for the optics lab was costly. Limited budgets also made it difficult to recruit qualified instructors. Curriculum needed to align with current manufacturing requirements while anticipating future needs. The list went on and on.
Dr. Vogt began the turnaround by strengthening industry, community, and governmental relationships. She understood these groups could support funding which would help address the many challenges she faced in building the program. Since her arrival at MCC, Dr. Vogt secured more than seven million dollars in corporate support and grants, part of which helped fund a 1,400 square foot optics lab expansion with more than $1.5M in new, advanced, manufacturing equipment.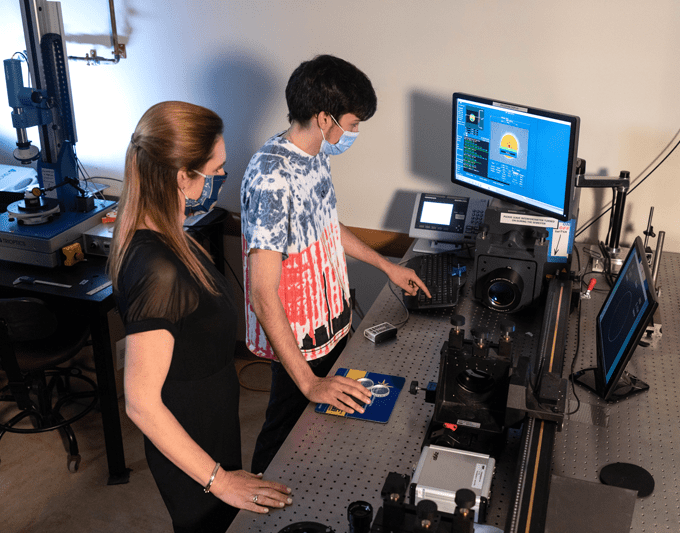 With a sharp eye on the student experience, Dr. Vogt mapped out viable career pathways to benefit students and employers. "Our goals included building up our academic pipeline through improved curriculum and high-school dual enrollment programs," she explained. Eighteen local high schools have taught MCC optics curriculum as part of the dual-enrollment program, and this outreach has yielded results as MCC's optics program enrollment increased year over year. 
MCC now has 123 students enrolled in its optics courses, and recently boasted the largest graduating class in its history with an impressive 100% job placement rate.
Twenty-one students earned an associate of applied science (AAS) degree. Twenty-seven others earned a certificate. All earned a job, or job offer, within the optics field by graduation. "Companies including Corning, Optimax, Lumetrics, Sydor, and Toptica are all expanding and need at least 100 precision optics technicians this year alone," Dr. Vogt said.
The national demand for optics technicians has grown for many years. Dr. Vogt viewed it as an opportunity to do once again what she does best – teach. Now, in addition to teaching in the classroom and lab, she is the AmeriCOM Workforce and Higher Education Executive Director – a role in which she teaches academic, industry, and community partners how they can collectively help grow the optics manufacturing workforce. Dr. Vogt has helped other community colleges around the country replicate her program at MCC in an effort to meet the demand for skilled optics technicians.
Beyond simply growing the number of enrollees, Dr. Vogt says she's proud of the broad mix of students entering the industry. At MCC specifically, her program is recruiting from underrepresented communities. "We are much more diverse than we were before. Twenty-five percent of our students are women. Twenty-six percent are students of color. We are heading in the right direction."
SPIE awarded Dr. Vogt its 2023 María J. Yzuel Educator Award for "excellence in optics-technician and associate-degree education and training, and for being a superb strategic educator in addressing the needs of an underserved market." As an SPIE member, Dr. Vogt is also a frequent participant, speaker, exhibitor, and panel member at SPIE conferences. The annual conference hosts a course Dr. Vogt created and teaches called Fundamentals of Optical Engineering.