APOMA's New President Outlines Vision
It has never been done in APOMA's 30-year history. The American Precision Optics Manufacturing Association has always been a volunteer-driven organization. But incoming president Lee Steneken says the extraordinary growth of the optics industry requires a bold change: a full-time director at APOMA who can help those manufacturers meet current and future demands. He has a plan on how to do it.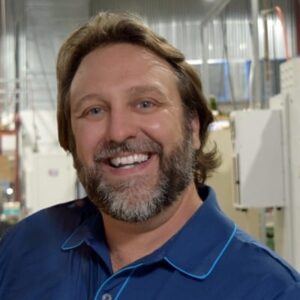 Steneken formally assumed his role as APOMA president during Photonics West 2023 earlier this month where he first floated the idea of a full-time director. As the current owner and president of ESCO Optics in Oak Ridge, NJ, Steneken pointed out the association's executives are also business owners and leaders who must balance their volunteer commitments with professional responsibilities. This was easier when the organization first started with about 10 manufacturing companies. Today APOMA includes more than 130 members, and Steneken says they deserve a focused effort to drive what he sees are the industry's most important challenges.
"This is too important and we have to be more assertive."
Steneken outlined three key priorities for APOMA as he begins his two-year term as president. Workforce development is priority one. "This is the most important issue our industry is facing right now," he said, explaining the workforce development challenge goes beyond schooling and apprenticeship. Steneken identified a knowledge gap between experts who've been in the field for decades and understand the "art" of precision optics manufacturing and industry newcomers who are well-trained on the latest tools and procedures without fully understanding the science behind the processes.
Steneken says he tries to bridge this gap between the two generations of employees at his company with videos and training resources. More broadly, he pointed to APOMA's support of AmeriCOM and its workforce development initiatives as an effective and necessary effort.
APOMA's second priority is supporting local high schools and colleges involved in optics technology programs. Companies opening their manufacturing facilities for student tours can have a significant impact on recruiting new technicians to the field. He said APOMA must also continue its long-standing practice of technical, advisory, and financial support of community colleges with optics programs.
APOMA recently presented a $7,300 donation to Dr. Amanda Meier at Front Range Community College (FRCC) during its recent annual conference in Boulder, Colorado. The donation came with additional support from ESCO Optics, PR Hoffman, Thorlabs, IRD Glass, Colorado Thin Films, and Ray Williamson Consulting. Dr. Meier says FRCC will use the APOMA donation for lab equipment and supplies. Beyond the financial support, she says the donation is a program endorsement that helps bridge equipment vendor relationships and expand job opportunities for students. Strengthening the optics technician workforce takes an entire ecosystem consisting of industry and community partners supporting an academic institution, Dr. Meier explained. "The donation is more than just a donation," she said. "It's validation that together we can produce highly-skilled optics technicians."
"If you think about how fast the optics industry is evolving, we need to make sure we are helping our members succeed."
Lastly, Steneken wants to increase sharing of information and resources amongst manufacturers to better their companies and the industry. "We call it 'coopetition.' We're working together to make each other better," Steneken said. He believes optics manufacturers should share production methods and consumable advancements while working together on government relations and lobbying activities. Steneken says these collaborations are already taking place in clusters around the country, and they will continue to grow. "APOMA, in close partnership with AmeriCOM, should be the catalyst for this. We need to be the rising tide that lifts all boats," he added.
Steneken intends to formalize these priorities as part of a job description for the new full-time director. He hopes to share his plan for the position with APOMA members at OptiFab 2023 this fall, after which the leadership team will engage in a national search for candidates.
"If you think about how fast the optics industry is evolving, we need to make sure we are helping our members succeed," he said.