AmeriCOM Announces Expanded Board
AmeriCOM is excited to introduce seven new board members to help drive our three-pronged mission of creating workforce training programs, developing optics manufacturing technologies, and transitioning those technologies from research into operations. The leaders represent a cross-section of optics manufacturers from across the country. The announcement signifies our growth as we continue to strengthen the nation's precision optics manufacturing industry.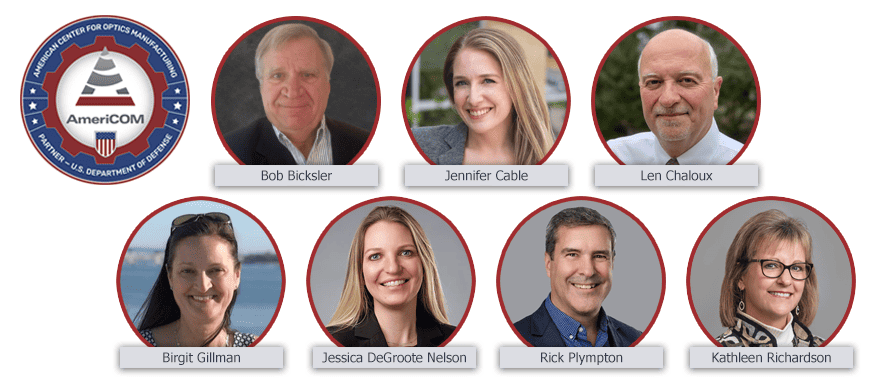 The new board members include:
The new members join existing board members Tom Battley, Vice President Government and Partnerships, AmeriCOM and Executive Director of Rochester Regional Photonics Cluster and New York Photonics; Mike Bechtold, Chair, AmeriCOM Board and President, OptiPro Systems; Jeff Ruckman, CEO and President, AmeriCOM; and Kirk Warden, President, LaCroix Precision Optics.
"Our new board brings strategic leadership to help us engage in meaningful industry, academic, community, and governmental relationships. By leveraging each of these sectors, we can continue our critical work of strengthening national security through a stronger optics manufacturing base."

Mike Bechtold
The capacity of the nation's optics industrial manufacturing base is a growing national security concern. The U.S. military depends on high-precision optics for many applications from night vision goggles to hypersonic missiles. Affordable, U.S.-manufactured, advanced optics are needed to meet the current and future demand of military systems. AmeriCOM is addressing this challenge by developing advanced optic manufacturing technologies, testing equipment, and the specialized materials required to support scalable manufacturing. In addition, optics manufacturing ecosystems are being established in multiple key regions throughout the U.S. to provide training programs for optics technicians.
To date, new training sites have been established in Boulder, CO; Newton, NJ; and Orlando, FL while AmeriCOM continues to support and grow the existing optics ecosystem in Rochester, NY. The new board will look to build on this early success. "We are already seeing the impact of these ecosystems as local manufacturing companies and partners work with community colleges to attract students into optics training programs," Bechtold said. "We hope to serve as a force multiplier to identify and foster more ecosystems across the country."
Birgit Gillman started her optics career at the University of Rochester's Laboratory for Laser Energetics and the Center for Optics Manufacturing (COM). She said her work on the AmeriCOM board will allow her to pay forward the support and mentorship she once received. "I am thrilled to be part of this team and look forward to helping make the same positive impact on the next generation of students, opticians, and technicians that COM made on me in the 90's," Gillman said. "The role models, mentors, and exciting research projects hooked me on the field of optics manufacturing. Working with AmeriCOM allows me a chance to give back to this growing industry."
Rick Plympton said he is excited to join the board to help support its national security efforts. "I am committed to developing capabilities and capacity that give the American military a unique advantage in the field," said Plympton. "AmeriCOM has the resources to accelerate development of innovative photonic solutions and training programs to meet the growing workforce needs of the nation's optics industry. I look forward to serving on the AmeriCOM board to help direct activities for maximum reward."